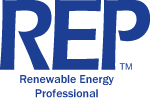 Certified Renewable Energy Professional™ Training Program
The REP Training Program is not available at this time.
This training program is designed to provide attendees a deep-dive into alternative energy sources, clean energy technologies, and sustainable energy practices. Over four days, our professional instructors will guide you through the renewable energy principles and practices of greatest relevance and practical value.
What Will You Learn?
Learn how to set realistic goals for renewable energy projects for sustainable applications.
Learn about the latest energy generation, production, and storage technologies available for you to implement across your applications - for the most significant benefit.
Learn what energy managers and energy professionals need to know about renewable sources, including wind, solar, thermal, photovoltaic, geothermal, electrical, bio-fuels, and hydroelectric.
Learn what energy managers and energy professionals need to know about energy management process technologies, such as power generation, energy systems, energy storage (fuel cells), and using renewable and clean energy technologies.
Learn how to finance and justify renewable energy projects, and what incentives can help you justify project implementation.
Who Should Attend
The program is of greatest value to those undertaking or assessing renewable energy projects. Obtaining AEE's REP™ certification provides international credibility among energy management, sustainable and clean energy communities. Attendees of this program have included existing energy professionals, energy engineers, energy managers, executives, financial executives, facilities managers, and energy consultants.
Course Outline
Introduction to Alternative Energy
Environmental Impacts
Alternative Energy & Carbon Reduction
Solar Energy
Wind Energy
Hydropower
Geothermal Energy
Waste to Energy
Fuel Cells
Hybrid Alternative Energy Systems (Hybrid Renewables)
Creative Energy Storage Applications
Alternative Energy Strategies for Buildings
Bio-fuels & Transportation Systems
Governmental Alternative Energy Programs
Financial Approaches & Incentives for Alternative Energy
The Future of Alternative Energy
Resources & the REP Exam
Our Instructors
Over three days, one of our professional instructors will guide you through renewable and alternative energy sources. Their teaching and industry experience allows them to deliver information that is of the most relevance and practical value to attendees.
| Access Date | Quiz Result | Score | Actions |
| --- | --- | --- | --- |
At-a-Glance
This training program prepares attendees to take the Certified Renewable Energy Professional™ (REP™) exam.
This program is held over 4 days.
You earn 2.2 CEU | 22 PDH | 4.4 AEE Credits for completing this program.
Key Takeaways
Work through practical examples to demonstrate the topics and procedures covered.
Review the various areas of the Body of Knowledge associated with AEE's certification exam.
Discuss how to apply what you have learned to your business and applications.
Leave with a course workbook that will become an invaluable desk reference.
Certification Eligibility
This training program prepares attendees to take the Carbon Auditing Professional™ exam. Please review the requirements for certification on the Becoming a REP™ page.
Printable Flyer